Proposta de consolidação estrutural da Igreja de Nossa Senhora do Monte do Recôncavo
M. Oliveira

NTPR – Núcleo de Tecnologia da Preservação e da Restauração, Escola Politécnica/Faculdade de Arquitetura, Universidade Federal da Bahia

R. Muñoz

NTPR, Escola Politécnica/Faculdade de Arquitetura, Universidade Federal da Bahia

A. Magalhães

NTPR, Escola Politécnica/Faculdade de Arquitetura, Universidade Federal da Bahia
Abstract
RESUMO
A Igreja de Nossa Senhora do Monte, construída na Bahia, Brasil, provavelmente no início do século XVIII, está localizada em São Francisco do Conde, no Recôncavo Baiano. Atualmente, o edifício encontra-se em estado geral de eversão, principalmente em relação à cobertura e ao desaprumo de paredes. Este trabalho tem como objetivo propor medidas de intervenção patrimonial para estabilização dos referidos elementos construtivos, considerando a manutenção da mesma lógica estrutural existente. Como resultados, serão apresentados: detalhe de reforço do sistema estático das tesouras de linha baixa da nave principal; sumário do projeto de substituição dos atuais barrotes de madeira por vigas metálicas; e detalhe do atirantamento da abóbada do fundo da capela-mor. Ressalta-se a importância deste trabalho de estabilização como metodologia a ser adotada em outras edificações históricas, uma vez que contempla intervenções não destrutivas, relevantes para sítios que contam com patrimônios de significativo valor histórico e cultural.
Palavras chave: consolidação; patrimônio; estrutura; reforço.

ABSTRACT
The Church of Nossa Senhora do Monte, built in Bahia, Brazil, probably in the eighteenth century, is located in São Francisco do Conde, in the Recôncavo. Currently the building is in a deplorable state of degradation, especially in terms of the roof and stability of the walls. This work proposes intervention measures to stabilize the said structural elements while taking into consideration and respecting the existing structural logic. The following results will be presented: detail of the reinforcement of the wood roof structure of the nave; summary of the project for the replacement of existing wood beams by metal ones; and finally the proposal to repair the vault after the presbytery. This paper emphasizes the importance of this stabilization work as a methodology to be adopted in other historic buildings, since it suggests non-destructive interventions, relevant to sites that have assets of significant historical and cultural value.
Keywords: consolidation; heritage; structure; strengthening.
Downloads
Download data is not yet available.
References
Bazin, G. (1985), "A arquitetura religiosa barroca no Brasil" (Rio de Janeiro, Brasil: Record), p. 178
Boito, C. (1989), "Il nuovo e l'antico in architettura" (Milano, Itália: Jaca Book), p. 272
Cury, I. (Org.) (2000), "Cartas patrimoniais" (Rio de Janeiro, Brasil: IPHAN), p. 383
Fonseca, F. L. da (1960), "Primórdios da arquitetura religiosa no Recôncavo Baiano" (Salvador, Brasil: Editora da Universidade Federal da Bahia), p. 109
IPAC-BA (1978), "Inventário de Proteção do Acervo Cultural da Bahia –Monumentos do Município de Salvador – Bahia" (Salvador, Brasil: Secretaria da Indústria, Comércio e Turismo), v.2, p. 324
Oliveira, M. M. de (2006), "Tecnologia da conservação e da restauração – materiais e estruturas: um roteiro de estudos" (Salvador, Brasil, EDUFBA: ABRACOR), p.243
Pedreira, P. T. (1976), "Notícia histórica de São Francisco do Conde" (São Francisco do Conde, Bahia, Brasil: Estudos Baianos), p. 34
Sousa, G. S. de (1989), "Notícia do Brasil" (Lisboa, Portugal: Publicações Alfa S. A.), p.263
Viollet-le-Duc, E. E. (2006), "Restauração" (Cotia, São Paulo, Brasil: Ateliê Editorial), p. 74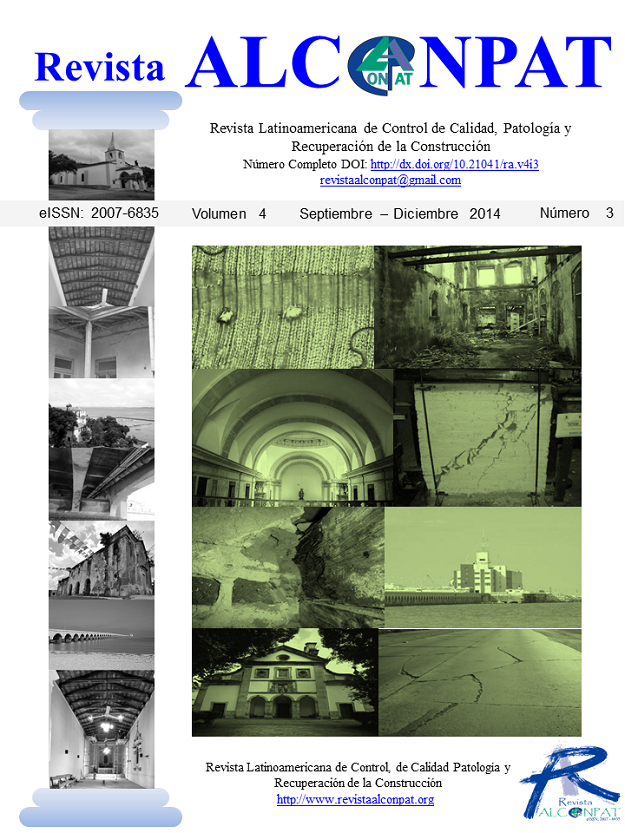 How to Cite
Oliveira, M., Muñoz, R., & Magalhães, A. (2014). Proposta de consolidação estrutural da Igreja de Nossa Senhora do Monte do Recôncavo. Revista ALCONPAT, 4(3), 228 - 236. https://doi.org/10.21041/ra.v4i3.72
_______________________________
License in effect from September 2020
Attribution 4.0 International (CC BY 4.0)
This is a human-readable summary of (and not a substitute for) the license. Disclaimer.
Articles published in Revista Alconpat will be Open-Access articles distributed under the terms and conditions of the Creative Commons Attribution License (CC BY). The copyright is retained by the author(s). Revista Alconpat will insert the following note at the end of the published text:
"Copyright 2021 by the authors. This work is an Open-Access article published under the terms and conditions of an International Creative Commons Attribution 4.0 International License (CC BY 4.0)".
You are free to:
Share — copy and redistribute the material in any medium or format
Adapt — remix, transform, and build upon the material for any purpose, even commercially.
The licensor cannot revoke these freedoms as long as you follow the license terms.
____________________
Under the following terms:
Attribution — You must give appropriate credit, provide a link to the license, and indicate if changes were made. You may do so in any reasonable manner, but not in any way that suggests the licensor endorses you or your use.
No additional restrictions — You may not apply legal terms or technological measures that legally restrict others from doing anything the license permits.
____________________
Notices:
You do not have to comply with the license for elements of the material in the public domain or where your use is permitted by an applicable exception or limitation.
No warranties are given. The license may not give you all of the permissions necessary for your intended use. For example, other rights such as publicity, privacy, or moral rights may limit how you use the material.