Gestión integral de la corrosión. Análisis documental
Michel Donadio

Technical Manager, Sika Services AG, Suiza.

Juan Capacho

Business Development Manager LATAM, Sika Mexicana SA de CV, México

Luis Santander

Product Engineer, Sika Mexicana SA de CV, México.
Abstract
El objetivo de este informe es hacer un análisis documental sobre las diferentes técnicas de mitigación de la corrosión disponibles en la actualidad, como los morteros de reparación, los inhibidores activos y pasivos de la corrosión, los revestimientos protectores y la protección catódica con corriente inducida o galvánica. Estas estructuras, construidas para durar mucho tiempo, están sometidas al envejecimiento por influencias de su entorno, como el agua, el dióxido de carbono atmosférico y otros elementos nocivos como los cloruros y la contaminación. El proceso de deterioro más común en las estructuras de concreto armado es la corrosión y la consiguiente dilatación de la armadura de acero, lo que provoca la fisuración y el desconchado del concreto.
Downloads
Download data is not yet available.
References
Angst, U.; Moro, F.; Geiker, M.; Kessler, S.; Beushausen, H.; Andrade, C.; Lahdensivu, J.; Köliö, A.; Imamoto, K.- ichi; von Greve-Dierfeld, S.; Serdar, M. (2020), Corrosion of steel in carbonated concrete: mechanisms, practical experience, and research priorities – a practical review by RILEM TC 281-CC. RILEM Technical Letters, Vol. 5, 85-100, DOI: https://doi.org/10.21809/rilemtechlett.2020.127
Bertolini, L., Elsener, B., Pedeferri, P., Redaelli, Elena., Polder, R. B. (2004), Corrosion of steel in concrete, prevention, diagnosis, repair. Wiley‐VCH Verlag GmbH & Co. KGaA, Weinheim, DOI: https://doi.org/10.1002/3527603379
Brem, M., Lohner, J., Büchler, M. (2022), A long-term study on the effect of a hydrophobic treatment on the moisture balance and durability of a reinforced concrete structure in a road tunnel. MATEC Web of Conferences 364, 04005, ICCRRR, DOI: https://doi.org/10.1051/matecconf/202236404005
Christodoulou, C., Goodier, C., Austin, S., Glass, G. K., Webb, J. (2012). Assessing the long-term durability of silanes on reinforced concrete structures (Version 1). Loughborough University. https://hdl.handle.net/2134/10925
Christodoulou, C., Goodier, C., Austin, S., Webb, J., Glass, G. K. (2013), Diagnosing the cause of incipient anodes in repaired reinforced concrete structures. Corrosion Science, Volume 69, Pages 123-129, DOI: https://doi.org/10.1016/j.corsci.2012.11.032
Christodoulou, C., Goodier, C. I., Austin, S. A. (2014): Site performance of galvanic anodes in concrete repairs. IN: Grantham, M, etal (eds). Concrete Solutions 2014. Proceedings of Concrete Solutions, the 5thInternational Conference on Concrete Repair, 1st-3rd September 2014, Belfast.Boca Raton, Fl: CRC Press, pp. 167-172, https://dspace.lboro.ac.uk/2134/16552
Dodds, W., Christodoulou, C. (2018), Hybrid anode concrete corrosion protection – independent study. Proceedings of the Institution of Civil Engineers - Construction Materials, 171(4), pp: 149-160, DOI: https://doi.org/10.1680/jcoma.16.00024
Guy, T. (2000), CEBTP, France, report No 2393.6.100.
Heiyantuduwa, R., Alexander, M. G., Mackechnie, J. R. (2006), Performance of a Penetrating Corrosion Inhibitor in Concrete Affected by Carbonation-Induced Corrosion. Journal of Materials in Civil Engineering, Vol. 18, Issue 6, DOI: https://doi.org/10.1061/(ASCE)0899-1561(2006)18:6(842)
Holmes, S., Glass, G. K., Wilcox, G. D., Robins, P. J., Roberts, A. C. (2011), The Response of Protective Current to Environmental Conditions During Hybrid Anode Concrete Repair Treatments. NACE Conference Papers, 11005.
Lozinguez, E., Barthélémy, J. -F., Bouteiller, V., Desbois, T. (2018), Contribution of Sacrificial Anode in reinforced concrete patch repair: Results of numerical simulations. Construction and Building Materials, Volume 178, 30, Pages 405-417, DOI: https://doi.org/10.1016/j.conbuildmat.2018.05.063
Mozaryn, T., Kokowska, J. (2009), Service life of coating systems applied on cooling towers - A laboratory study and in-situ investigations. Book title: NUCPERF 2009 - Long Term Performance of Cementitious Barriers and Reinforced Concrete in Nuclear Power Plants and Waste Management. Editor(s): V. L'Hostis, R. Gens, C. Gallé. Publisher: RILEM Publications SARL.
Page, C. L., Treadaway, K. W. J. (1982), Aspects of the electrochemistry of steel in concrete, Nature, 297, 109-115, DOI: https://doi.org/10.1038/297109a0
Page, C. L., Sergi, G. (2000), Developments in cathodic protection applied to reinforced concrete, Journal of Materials in Civil Engineering, Vol. 12, Issue 1, 8-15. DOI: https://doi.org/10.1061/(ASCE)0899-1561(2000)12:1(8)
Qian, S., Zhang, J., Qu, D. (2006), Theoretical and experimental study of microcell and macrocell corrosion in patch repairs of concrete structures, Cement and Concrete Composites, Volume 28, Issue 8, Pages 685-695, DOI: https://doi.org/10.1016/j.cemconcomp.2006.05.010
Rodum, E., et al, (2012), The Norwegian Public Roads Administration, Trondheim, Norway, effect of different surface treatment products after 10 years of field exposure, presented at ICDC conference in June, Norway
SAMARIS (2003-2005), Sustainable and Advanced Materials for Road Infrastructure, European, URL: https://trimis.ec.europa.eu/project/sustainable-and-advanced-materials-road-infrastructure
Sergi, G., Whitmore, D. (2010), Performance of Zinc Sacrificial Anodes For Long-term Control of Reinforcement Corrosion. NACE - International Corrosion Conference Series.
Silva, N. (2013), Chloride Induced Corrosion of Reinforcement Steel in Concrete. Department of Civil and Environmental Engineering, Chalmers University of Technology, Sweden. Thesis for the degree of Doctor of Philosophy.
Tilly, G. P., Jacobs, J. (2007) Concrete repairs – Performance in service and current practice. CONREPNET, ISBN 978-1-86.81-974-2.
Tritthart, J. (2003), Transport of a surface applied corrosion inhibitor in cement paste and in concrete. Cement and Concrete Research, 33(6):829-834, DOI: https://doi.org/10.1016/S0008-8846(02)01067-0
Transportation Research Board of the National Academies (2009), NCHRP SYNTHESIS 398, Cathodic Protection for Life Extension of Existing Reinforced Concrete Bridge Elements A Synthesis of Highway Practice, CONCORR Inc, NATIONAL COOPERATIVE HIGHWAY RESEARCH PROGRAM.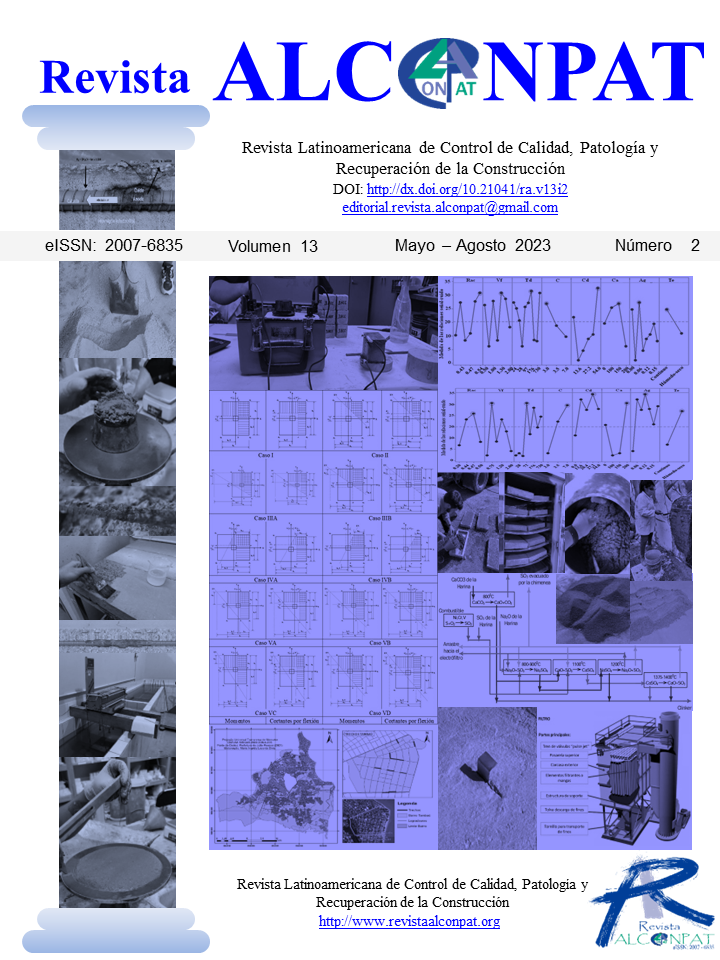 How to Cite
Donadio, M., Capacho, J., & Santander, L. (2023). Gestión integral de la corrosión. Análisis documental. Revista ALCONPAT, 13(2), 235 - 253. https://doi.org/10.21041/ra.v13i2.690
Section
Documental Research
Copyright (c) 2023 Donadio, M., Capacho, J., Santander, L.
This work is licensed under a Creative Commons Attribution 4.0 International License.
_______________________________
License in effect from September 2020
Attribution 4.0 International (CC BY 4.0)
This is a human-readable summary of (and not a substitute for) the license. Disclaimer.
Articles published in Revista Alconpat will be Open-Access articles distributed under the terms and conditions of the Creative Commons Attribution License (CC BY). The copyright is retained by the author(s). Revista Alconpat will insert the following note at the end of the published text:
"Copyright 2021 by the authors. This work is an Open-Access article published under the terms and conditions of an International Creative Commons Attribution 4.0 International License (CC BY 4.0)".
You are free to:
Share — copy and redistribute the material in any medium or format
Adapt — remix, transform, and build upon the material for any purpose, even commercially.
The licensor cannot revoke these freedoms as long as you follow the license terms.
____________________
Under the following terms:
Attribution — You must give appropriate credit, provide a link to the license, and indicate if changes were made. You may do so in any reasonable manner, but not in any way that suggests the licensor endorses you or your use.
No additional restrictions — You may not apply legal terms or technological measures that legally restrict others from doing anything the license permits.
____________________
Notices:
You do not have to comply with the license for elements of the material in the public domain or where your use is permitted by an applicable exception or limitation.
No warranties are given. The license may not give you all of the permissions necessary for your intended use. For example, other rights such as publicity, privacy, or moral rights may limit how you use the material.