Estudio de los daños y refuerzos necesarios para la recuperación del techo de la iglesia de Salsipuedes-Córdoba-Argentina
J. L. Gómez

Taller de Investigación de Diseño Estructural, TIDE, Facultad de Arquitectura, Urbanismo y Diseño, Universidad Nacional de Córdoba

K. Klein

Facultad de Arquitectura, Urbanismo y Diseño Universidad Nacional de Córdoba, Argentina.

G. Montiel

Miembro Alconpat, Argentina
Abstract
RESUMEN
La Iglesia de Salsipuedes en la Provincia de Córdoba fue construida en el año 1875 y su techo está conformado por una estructura de madera, vigas reticulada y correas sobre las cuales se apoyan bovedillas cerámicas, capa de mortero y tejas musleras.
La Iglesia está inhabilitada por precaución debido a la aparición de fisuras en barras del reticulado y desprendimiento de trozos de mampostería en las cercanías del apoyo de las vigas principales. En este trabajo se estudia el estado tensional de las barras del reticulado y la materialización del apoyo de las vigas principales en los muros de mampostería.
Constatado el alto valor de las tensiones de trabajo de las barras con manifestaciones patológicas, como así también el inadecuado sistema de apoyo en la mampostería, se proyectan los refuerzos necesarios para lograr un funcionamiento de la estructura con un grado de seguridad adecuado.
Palabras clave: estructuras; madera; patología; patrimonio.

ABSTRACT
Salsipuedes The Church of the Province of Cordoba was built in 1875 and its roof is formed by a wooden structure, reticulate beams and straps which support ceramic arches tile mortar layer and tiling Legguards
The Church is disabled as a precaution due to the appearance of cracks in the grid bars and breaking away of pieces of masonry near the support of the main beams. In this work we study the stress state of the grid bars and support the realization of the main beams in the masonry walls.
Confirmed the high value of the working stresses of the bars with pathological manifestations, as well as inadequate support system in the masonry, projecting reinforcements necessary for safe operation of the structure with a degree of security.
Keywords: Wooden structures; pathology; patrimony.
Downloads
Download data is not yet available.
References
Argüellez Alvarez, R., Martitegui, F. Arriaga (1996), "Estructuras de madera, Diseño y cálculo" (Madrid, España: Graficas Palermo)
Associaçao brasileira de normas técnicas NBR 7190 (1997), "Projeto de estruturas de madeira" (Río de Janeiro, Brasil: ABNT)
Gómez, J. L., (2000), "Estructuras de madera" (Córdoba, Argentina: Ingreso)
Lozano Apolo, G., Lozano Martinez Luengas, A. (1995) "Técnicas de Intervención en el Patrimonio Arquitectónico" Gijón, España: Mercantil Asturias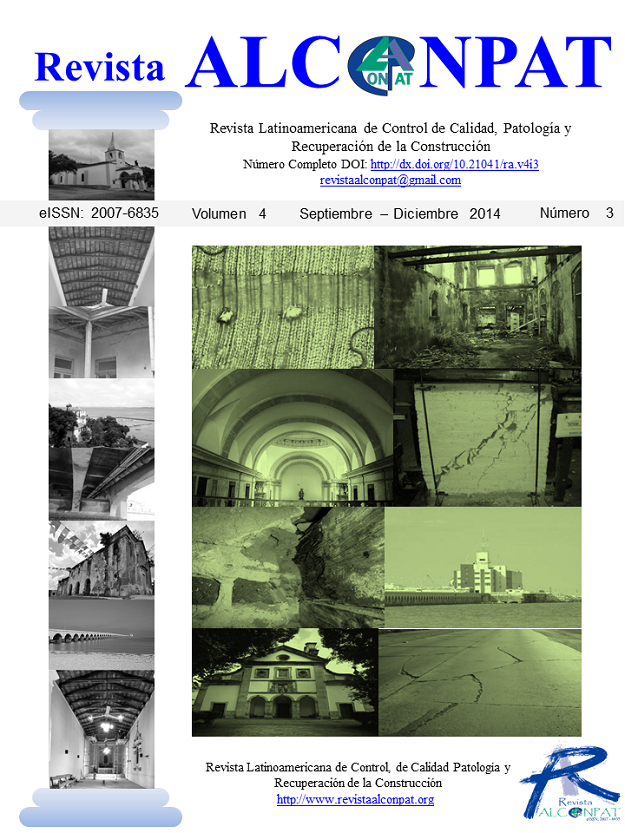 How to Cite
Gómez, J. L., Klein, K., & Montiel, G. (2014). Estudio de los daños y refuerzos necesarios para la recuperación del techo de la iglesia de Salsipuedes-Córdoba-Argentina. Revista ALCONPAT, 4(3), 182 - 191. https://doi.org/10.21041/ra.v4i3.68
_______________________________
License in effect from September 2020
Attribution 4.0 International (CC BY 4.0)
This is a human-readable summary of (and not a substitute for) the license. Disclaimer.
Articles published in Revista Alconpat will be Open-Access articles distributed under the terms and conditions of the Creative Commons Attribution License (CC BY). The copyright is retained by the author(s). Revista Alconpat will insert the following note at the end of the published text:
"Copyright 2021 by the authors. This work is an Open-Access article published under the terms and conditions of an International Creative Commons Attribution 4.0 International License (CC BY 4.0)".
You are free to:
Share — copy and redistribute the material in any medium or format
Adapt — remix, transform, and build upon the material for any purpose, even commercially.
The licensor cannot revoke these freedoms as long as you follow the license terms.
____________________
Under the following terms:
Attribution — You must give appropriate credit, provide a link to the license, and indicate if changes were made. You may do so in any reasonable manner, but not in any way that suggests the licensor endorses you or your use.
No additional restrictions — You may not apply legal terms or technological measures that legally restrict others from doing anything the license permits.
____________________
Notices:
You do not have to comply with the license for elements of the material in the public domain or where your use is permitted by an applicable exception or limitation.
No warranties are given. The license may not give you all of the permissions necessary for your intended use. For example, other rights such as publicity, privacy, or moral rights may limit how you use the material.