Application of GUT Matrix in the assessment of pathological manifestations in heritage constructions
Keywords:
Heritage constructions, Sobral, Damage, GUT Matrix.
Abstract
The present paper presents the application of GUT (Gravity, Urgency, Tendency) Matrix methodology as a tool in the assessment of pathological manifestations in buildings. Three heritage constructions of the historic center of Sobral, Ceará, Brazil were studied through in situ inspections, photographic records and elaboration of the damage map. The GUT Matrix was used as a tool to rank, in each building, priority levels for each damage in order to define their order of treatment. Thus, it was possible to conclude that the applied method can be used as a useful tool to manage the maintenance of buildings through prioritization of the most significant problems and, to contribute directly to the preservation and safety of the built historical heritage.
Downloads
Download data is not yet available.
References
Brandão, F. S. (2018), "Aplicação da Matriz GUT como ferramenta de suporte na gestão da manutenção de edificações", Trabalho de Conclusão de Curso de Especialização em Engenharia e Gerenciamento de Manutenção, Faculdade Única de Ipatinga, p. 08.
Instituto do Patrimônio Histórico e Artístico Nacional- IPHAN. (2005), "Inventário Nacional de Bens Arquitetônicos – IBA". IPHAN, Sobral, Brasil, p. 42.
Martins, N., Pessoa, R., Nascimento, R. (2017), Priorização na Resolução de Manifestações Patológicas em Estruturas de Concreto Armado: Método GUT, Revista de Engenharia e Pesquisa Aplicada. 2 (3): 139-147. http://dx.doi.org/10.25286/repa.v2i3.707
Mesquita, E, Brandão, F., Diógenes, A., Antunes, P., Varum, H. (2017), Ambient vibrational characterization of the Nossa Senhora das Dores Church, Engineering Structures and Technologies, 9 (4): 170-182. https://doi.org/10.3846/2029882X.2017.1416311
Mesquita, E., Paupério, E., Arêde, A., Varum, H. (2015), "Boletim Técnico nº 11: Caracterização, avaliação e recuperação estrutural de construções históricas". ALCONPAT-BRASIL, p. 18.
Pinto, J. J. de S (2009), "Os novos palácios da velha princesa: Intervenções arquitetônicas contemporâneas no sitio histórico de Sobral", Dissertação de Mestrado em Arquitetura e Urbanismo, Universidade Federal do Rio Grande do Norte, p. 129.
Rocha, E. A., Macedo, J. V. S., Correa, P., Monteiro, C. B. (2018), Adaptation of a damage map to historical buildings with pathological problems: Case study at the Church of Carmo in Olinda, Pernambuco, Revista ALCONPAT, 8 (1): 51-63. http://dx.doi.org/10.21041/ra.v8i1.198
Roca, P., Cervera, M., Gariup, J., Pela', L. (2010), Structural Analysis of Masonry Historical Constructions. Classical and Advanced Approaches, Archives of Computational Methods in Engineering, 17(3): 299–325. https://doi.org/10.1007/s11831-010-9046-1
Santos, C. L. L., Silva, A. J. C. (2017). "Conservação de edifício histórico do século XIX – análise de patologias na fachada do Bloco A da Escola Politécnica da Universidade de Pernambuco". In: Conferência Nacional de Patologia e Recuperação de Estruturas, CONPAR 2017, Recife: Pernanbuco (Brasil), pp. 1-12.
Santos, F., Alves, A., Brandão, F., Mesquita, E., Diógenes, A., Varum, H. (2016). "Análise estrutural de uma edificação histórica do Século XVIII". In: Congresso Brasileiro de Patologia das Construções, CBPAT 2016, Belém: Pará (Brasil), pp. 317-327.
Verzola, S. N., Marchiori, F. F., Aragon, J. O. (2014). "Proposta de lista de verificação para inspeção predial x urgência das manutenções". In: Encontro Nacional de Tecnologia do Ambiente Construído, XV ENTAC, Maceió: Alagoas (Brasil), pp. 1226-1235. http://doi.org/10.17012/entac2014.300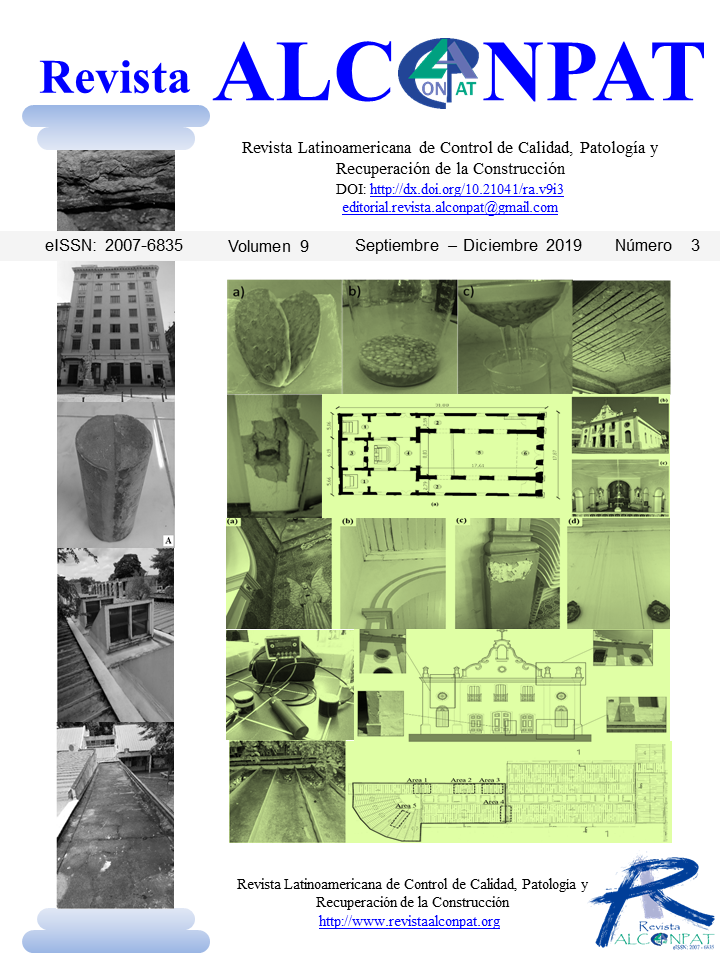 How to Cite
Braga, I. C., Brandão, F. da S., Ribeiro, F. R. C., & Diógenes, A. G. (2019). Application of GUT Matrix in the assessment of pathological manifestations in heritage constructions. Revista ALCONPAT, 9(3), 320 - 335. https://doi.org/10.21041/ra.v9i3.400
_______________________________
License in effect from September 2020
Attribution 4.0 International (CC BY 4.0)
This is a human-readable summary of (and not a substitute for) the license. Disclaimer.
Articles published in Revista Alconpat will be Open-Access articles distributed under the terms and conditions of the Creative Commons Attribution License (CC BY). The copyright is retained by the author(s). Revista Alconpat will insert the following note at the end of the published text:
"Copyright 2021 by the authors. This work is an Open-Access article published under the terms and conditions of an International Creative Commons Attribution 4.0 International License (CC BY 4.0)".
You are free to:
Share — copy and redistribute the material in any medium or format
Adapt — remix, transform, and build upon the material for any purpose, even commercially.
The licensor cannot revoke these freedoms as long as you follow the license terms.
____________________
Under the following terms:
Attribution — You must give appropriate credit, provide a link to the license, and indicate if changes were made. You may do so in any reasonable manner, but not in any way that suggests the licensor endorses you or your use.
No additional restrictions — You may not apply legal terms or technological measures that legally restrict others from doing anything the license permits.
____________________
Notices:
You do not have to comply with the license for elements of the material in the public domain or where your use is permitted by an applicable exception or limitation.
No warranties are given. The license may not give you all of the permissions necessary for your intended use. For example, other rights such as publicity, privacy, or moral rights may limit how you use the material.