Analysis of compost repair mortars by vinylic copolymer, PVA, and SBR
Keywords:
repair, polymer mortar, pathological manifestations, repair mortar, adhesion strength
Abstract
This work aimed to develop and analyze polymeric repair mortars composed of either  vinylic copolymer, PVA (polyvinyl acetate), and or SBR (styrene-butadiene ). Tests were carried out to determine the compressive and diametral compression tensile strengths. In addition, the adhesive strength between the repair and the concrete was determined by means of a diametral compression traction test. Among the materials tested, it was noticed that the material modified by styrene-butadiene SBR hadexhibited the best performance, especially with respect to theits adhesion to the concrete. In general, the results showed that the mortars modified by the studied polymers can meet the function of a repair material
Downloads
Download data is not yet available.
References
Alanazi, H., Yang, M., Zhang, D., Gao, Z. (2016), Bond strength of PCC pavement repairs using metakaolin-based geopolymer mortar. Cement and Concrete Composites. 65: 75-82. https://doi.org/10.1016/j.cemconcomp.2015.10.009
Associação Brasileira de Normas Técnicas. (2011) NBR 7222: Concreto e argamassa — Determinação da resistência à tração por compressão diametral de corpos de prova cilíndricos. Rio de Janeiro.
Espeche, A. D., León, J. (2011), Estimation of bond strength envelopes for old-to-new concrete interfaces based on a cylinder splitting test. Construction and Building Materials. 25: 1222–1235. https://doi.org/10.1016/j.conbuildmat.2010.09.032
Geiker, M. R. (2012), On the importance of execution for obtaining the designed durability of reinforced concrete structures: Construction of durable concrete structures. Materials and corrosión. 63:1114 -1118. https://doi.org/10.1002/maco.201206754
Helene, P. R. D. L. (1992), "Manual para reparo, reforço e proteção de Estruturas de Concreto". PINI, São Paulo, Brasil.
Luković, M., Ye, G., Van Breugel, K. (2012), "Reliable concrete repair: A critical review". 14th International Conference Structural Faults and Repair. Edinburgh, Scotland, UK.
Radhakrishnan, R., Syam Prakash, V., Prasad Varma Thampan, C. K. (2012), Performance of Styrene Butadiene Rubber as a Concrete Repair Material in tropical climate. International Journal of Advancements in Research & Technology, Volume 1, Issue 6, pp. 1-5, ISSN 2278-7763
Soufi, A., Mahieux, P. Y., Ait-Mokhtar, A. (2016), Influence of polymer proportion on transfer properties of repair mortars having equivalent water porosity. Materials and Structures. 49: 383–398. https://doi.org/10.1617/s11527-014-0504-3
Souza, V. C. M. D., Ripper, T. (1998), "Patologia, Recuperação e Reforço de Estruturas de Concreto". PINI, São Paulo, Brasil.
Sprinkel, M. M., Ozyildirim, C. (2000), Evaluation of high performance concrete overlays placed on Route 60 over Lynnhaven Inlet in Virginia. Charlottesville, EUA.
Ueda, H., Tamai, Y., Kudo, T. (2011), Evaluation of the Durability of Cement-based Repair Materials. Railway Technical Research Institute. 52: 92-96. https://doi.org/10.2219/rtriqr.52.92
Ukrainczyk, N., Rogina, A. (2013), Styrene–butadiene latex modified calcium aluminate cement mortar. Cement & Concrete Composites. 41: 16–23. https://doi.org/10.1016/j.cemconcomp.2013.04.012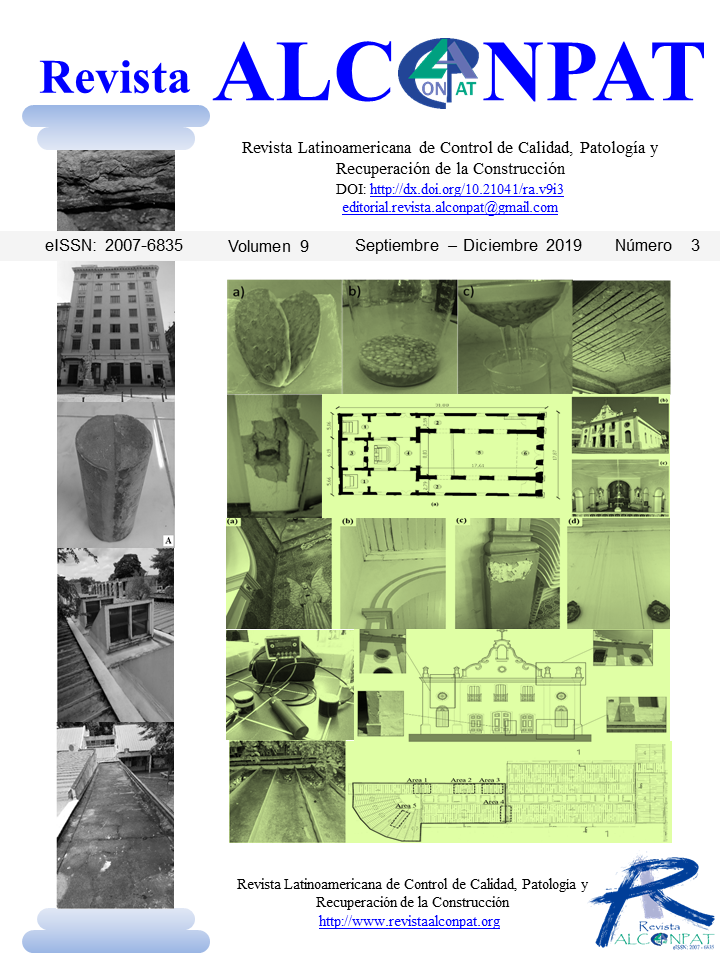 How to Cite
de Souza, M. H., & de Souza, R. A. (2019). Analysis of compost repair mortars by vinylic copolymer, PVA, and SBR. Revista ALCONPAT, 9(3), 277 - 287. https://doi.org/10.21041/ra.v9i3.330
_______________________________
License in effect from September 2020
Attribution 4.0 International (CC BY 4.0)
This is a human-readable summary of (and not a substitute for) the license. Disclaimer.
Articles published in Revista Alconpat will be Open-Access articles distributed under the terms and conditions of the Creative Commons Attribution License (CC BY). The copyright is retained by the author(s). Revista Alconpat will insert the following note at the end of the published text:
"Copyright 2021 by the authors. This work is an Open-Access article published under the terms and conditions of an International Creative Commons Attribution 4.0 International License (CC BY 4.0)".
You are free to:
Share — copy and redistribute the material in any medium or format
Adapt — remix, transform, and build upon the material for any purpose, even commercially.
The licensor cannot revoke these freedoms as long as you follow the license terms.
____________________
Under the following terms:
Attribution — You must give appropriate credit, provide a link to the license, and indicate if changes were made. You may do so in any reasonable manner, but not in any way that suggests the licensor endorses you or your use.
No additional restrictions — You may not apply legal terms or technological measures that legally restrict others from doing anything the license permits.
____________________
Notices:
You do not have to comply with the license for elements of the material in the public domain or where your use is permitted by an applicable exception or limitation.
No warranties are given. The license may not give you all of the permissions necessary for your intended use. For example, other rights such as publicity, privacy, or moral rights may limit how you use the material.