Revisión tratadística de las proporciones empleadas en la construcción de la estructura de la iglesia de San Juan bautista en Tiripetío, Michoacán, México. Comentarios a los resultados del análisis estructural a botareles de contrafuertes ysu restauración
J. A. Bedolla-Arroyo

Facultad de Arquitectura, Universidad Michoacana de San Nicolás de Hidalgo, Morelia, Michoacán, México, 58040.

W. Martínez-Molina

Facultad de Ingeniería Civil, Universidad Michoacana de San Nicolás de Hidalgo, Morelia, Michoacán, México, 58040

E. M. Alonso-Guzmán

Departamento de Materiales de la Facultad de Ingeniería Civil de la Universidad Michoacana de San Nicolás de Hidalgo, Morelia, Michoacán, 58040, México.

J. L. Briansó-Penalva

Departamento de Cristalografía, Universidad Autónoma de Barcelona, Barcelona, Catalunya, España, 08202
Abstract
RESUMEN
El edificio en estudio es emblemático. Se encuentra desplantado sobre un suelo arcilloso. Ha sufrido modificaciones por motivos estructurales, arquitectónicos, estéticos y funcionales. La construcción de este templo data del siglo XVI. Se construyó con mampostería de piedra natural junteada con arcilla y techumbre de madera. Su planta está conformada por una sola nave rectangular de 12 m de ancho x 50 m de largo, la cual contempla 5 contrafuertes laterales, que presentan falla estructural en sus extremos superiores e inferiores
Al analizar las causas del origen de las fracturas presentes, se comprueba que el edificio se construyó de acuerdo a la geometría propuesta en diversos tratados antiguos, lo que supondría un adecuado comportamiento mecánico. Se presentan las principales conclusiones obtenidas del análisis estructural realizado a los botareles de los contrafuertes, así como del estudio de Mecánica de Suelos realizado, concluyéndose que las fracturas presentes en los botareles de los contrafuertes se deben a la inadecuada selección de la mampostería natural empleada y a un inadecuado procedimiento constructivo.
Palabras clave: Fábrica; tratados; edificios históricos; contrafuertes; botareles.

ABSTRACT
The Tiripetío building is emblematic. It is founded on a clay soil. It has undergone modifications due to structural, architectural, aesthetic and functional reasons. The construction of this temple dates back from the 16th century. It was built with stone masonry natural binder with clay and wood roof. The plant consists of a single rectangular bay of 12 m wide x 50 m in length, which includes 5 lateral buttresses, showing structural failure in the upper and lower ends. To analyze the root causes of the fractures, it was checked that the building was built according to the geometry described in various former treaties which would have a proper mechanical behavior. The main conclusions obtained from the structural analysis at botareles buttresses, as well as the study of soil mechanics, were that fractures present at the botareles of the buttresses are due to improper selection of the used natural masonry as well as an inappropriate construction procedure.
Keywords: Factory; treaties; historic buildings; buttresses; flying buttresses.
Downloads
Download data is not yet available.
References
Báez Macías Eduardo (1969), Obras de fray Andrés de san Miguel, México, UNAM, p. 92, 109.
Báez Macías E. (1969), Obras de fray Andrés de San Miguel, México, Universidad Nacional Autónoma de México, Instituto de Investigaciones Estéticas, p. 136, 138.
Bails B. (1796), Elementos de Matemática. Por Benito Bails D., Tomo IX, Parte I, Que trata de la Arquitectura Civil, Segunda Edición corregida por el autor, Madrid, Imprenta de la viuda de D. Joaquín Ibarra. (Edición facs. Murcia: CO Aparejadores y Arquitectos de técnicos de Murcia, Artes Gráficas Soler, 1983.), p. 206-207
Bonet Correa A. (1979), Simón García, Tratadista de arquitectura en Compendio de arquitectura y simetría de los templos, México, Escuela Nacional de Conservación, Restauración y Museografía "Manuel Castillo Negrete", Secretaría de Educación Pública- Instituto Nacional de Antropología e Historia, p. 62, 121, 151.
Kubler G. (1982), Arquitectura mexicana del siglo XVI, México, Fondo de Cultura Económica, p. 110.
León Baptista Alberti (1582), Los Diez Libros de Architectura de León Baptista Alberto. Traducidos del Latín en Romance. [Por Francisco Loçano] Madrid: Casa de Alfonso Gómez. (Ed. facs. Colegios Oficiales de Aparejadores y Arquitectos Técnicos, 1975), pp. 63-64.
San Nicolás Fr. Laurencio de (1639), Arte y Uso de Architectura. Compuesto por Fr. Laurencio de S Nicolás, Agustino Descalço, Maestro de obras. S. l., s.f. (Edición facs. Valencia: Colección Juan de Herrera dirigida por Luis Cervera Vera, Albatros Ediciones, 1981.), p. 31, 33, 60, 61.
San Nicolás L. de (1989), Arte y Uso de Arquitectura, Zaragoza, Edición facsímil de la de Plácido Bravo López de 1796, Colegio Oficial de Arquitectos de Aragón (Colección Arquitecturas de los Precursores, 5), p. 232, 245, 247.
Vitruvio Polión Marco (1787), Los Diez Libros de Arquitectura de M. Vitruvio Polión. Traducidos del latín, y comentados por Don Joseph Ortíz y Sanz. Madrid, Imprenta Real. (Edición facs. Barcelona: Serie Arte y Arquitectura, Editorial Alta Fulla, 1987), p. 42-45.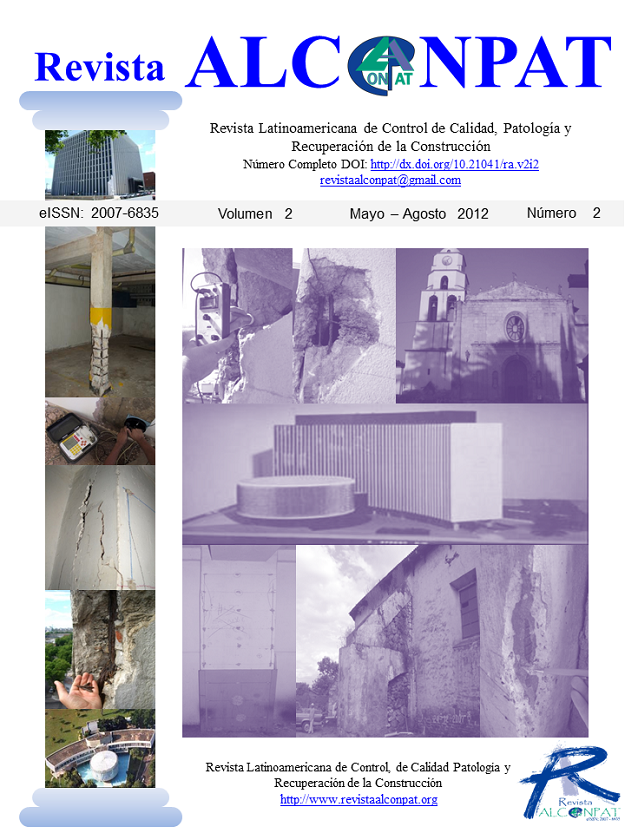 How to Cite
Bedolla-Arroyo, J. A., Martínez-Molina, W., Alonso-Guzmán, E. M., & Briansó-Penalva, J. L. (2012). Revisión tratadística de las proporciones empleadas en la construcción de la estructura de la iglesia de San Juan bautista en Tiripetío, Michoacán, México. Comentarios a los resultados del análisis estructural a botareles de contrafuertes ysu restauración. Revista ALCONPAT, 2(2), 114 - 130. https://doi.org/10.21041/ra.v2i2.32
Section
Documental Research
_______________________________
License in effect from September 2020
Attribution 4.0 International (CC BY 4.0)
This is a human-readable summary of (and not a substitute for) the license. Disclaimer.
Articles published in Revista Alconpat will be Open-Access articles distributed under the terms and conditions of the Creative Commons Attribution License (CC BY). The copyright is retained by the author(s). Revista Alconpat will insert the following note at the end of the published text:
"Copyright 2021 by the authors. This work is an Open-Access article published under the terms and conditions of an International Creative Commons Attribution 4.0 International License (CC BY 4.0)".
You are free to:
Share — copy and redistribute the material in any medium or format
Adapt — remix, transform, and build upon the material for any purpose, even commercially.
The licensor cannot revoke these freedoms as long as you follow the license terms.
____________________
Under the following terms:
Attribution — You must give appropriate credit, provide a link to the license, and indicate if changes were made. You may do so in any reasonable manner, but not in any way that suggests the licensor endorses you or your use.
No additional restrictions — You may not apply legal terms or technological measures that legally restrict others from doing anything the license permits.
____________________
Notices:
You do not have to comply with the license for elements of the material in the public domain or where your use is permitted by an applicable exception or limitation.
No warranties are given. The license may not give you all of the permissions necessary for your intended use. For example, other rights such as publicity, privacy, or moral rights may limit how you use the material.