Enseñanzas de casos de inspección en sótanos
O. Troconis de Rincón

Centro de Estudios de Corrosión, Facultad de Ingeniería, Universidad del Zulia Maracaibo, Venezuela.

M. Sánchez

Centro de Estudios de Corrosión, Facultad de Ingeniería, Universidad del Zulia Maracaibo, Venezuela.

V. Millano

Centro de Estudios de Corrosión, Facultad de Ingeniería, Universidad del Zulia Maracaibo, Venezuela.

J. Bravo

Centro de Estudios de Corrosión, Facultad de Ingeniería, Universidad del Zulia Maracaibo, Venezuela.

S. Delgado

Centro de Estudios de Corrosión. Facultad de Ingeniería. Universidad del Zulia., Ciudad Universitaria, Maracaibo, Venezuela.
Abstract
RESUMEN
Este trabajo muestra las enseñanzas obtenidas al evaluar y diagnosticar problemas por corrosión y estructurales en varios sótanos de diferentes tipos de edificaciones, ubicadas cerca y lejos de la costa. En este se reportan los resultados obtenidos de esta inspección, de los cuales se encuentran: levantamiento de daños, ensayos físico-químicos, mecánicos y electroquímicos que permitieron caracterizar el concreto y los daños por corrosión que puedan comprometer a las estructuras evaluadas. Dado que en la mayoría de los casos los sótanos se utilizan como estacionamientos, los problemas de corrosión se deben, en general, a la carbonatación del concreto. No obstante, este efecto se potenció por niveles freáticos altos y presencia de bolsas de agua salina ubicadas en el subsuelo del sótano, lo cual permitió no solo el ingreso del agua sino también de los iones cloruros hacia el concreto. En este trabajo se muestra la evaluación, así como las recomendaciones de las acciones a tomar para extender su vida en servicio.
Palabras Clave: Corrosión; sótanos; concreto armado; evaluación; rehabilitación

ABSTRACT
This paper shows the lessons learned in evaluating and diagnosing corrosion and structural problems in several basements of different types of buildings located near and far from the coast. The results of this inspection are reported. They include: damage survey, physical-chemical, mechanical and electrochemical tests; all of which allowed characterizing the concrete and corrosion damages that could compromise the structures evaluated. Since in most cases the basements are used as parking lots, corrosion problems are due, in general, to the carbonation of concrete. However, this effect is potentiated by high freatic levels and the presence of saline water bags located in the subsoil of the basement, which allowed not only the ingress of water but also of chloride ions into concrete. This paper shows the evaluation and recommendations of actions to be taken to extend the service life of the reinforced concrete structures evaluated.
Keywords: Corrosion; basements; reinforced concrete; evaluation; rehabilitation.
Downloads
Download data is not yet available.
References
ASTM (1987) Standard C-876-87 Standard Test Method for Half-Cell Potentials of Uncoated Reinforcing Steel in Concrete. Philadelphia. USA.
DURACON Collaboration. Trocόnis de Rincón O. and coauthors (2007) Effect of the Marine Environment on Reinforced Concrete Durability in Iberoamerican Countries: DURACON Project/CYTED, Corrosion Science, Elsevier Science LTD Publication, Volumen 49, Issue 7, pp. 2832-2843.
Feliú S., González J. A., Feliú V., Jr Feliú S., Escudero M. L., Rz Maribona I., Austiín V., Andrade C., Bolaño J. A., Jiménez F. (1993) Corrosion Detecting Probes For Use With A Corrosion-Rate Meter For Electrochemically Determining The Corrosion Rate Of Reinforced Concrete Structures, U.S. Patent No. 5.259.944.
ICRI guide Nº 03730- (1989) Guide for Surface Preparation for the Repair of Deteriorated Concrete Resulting from Reinforcing Steel Corrosion,. (RE-ISSUED 1995).
Sanchez M., Troconis de Rincón O., Sanchez E., Garcia D., Sanchez E., Sadaba M., Delgado S. and Fernández R. (2005) Corrosion Problems Associated with a Fireproofing-Coated Structure exposed to a Marine Environment, Materials Performance, Vol. 44 No.10, pp 34-37.
Troconis de Rincón O. y Miembros de la Red DURAR. Red Temática XV.B. (1997) Durabilidad de la Armadura. Manual De Inspección, Evaluación y Diagnóstico de Corrosión en Estructuras de Hormigón Armado, CYTED ISBN 980-296-541-3. Maracaibo. Venezuela.
Troconis de Rincón O., Arrieta de Bustillos L., Vezga C. (2003) Evaluation, Diagnosis and Rehabilitation of Buildings in Rural Environments, Journal of Architecture & Environment. Vol.2, No. 1, pp. 45-54.
Troconis de Rincón O., Sánchez M., Pérez O., Contreras D., García O. y Vezga C. (1991) A Study of Practical Cases of Steel Corrosion in Reinforced Concrete. Causes and Solutions, Materials Performance, Vol. 30, No. 8, pp. 42-45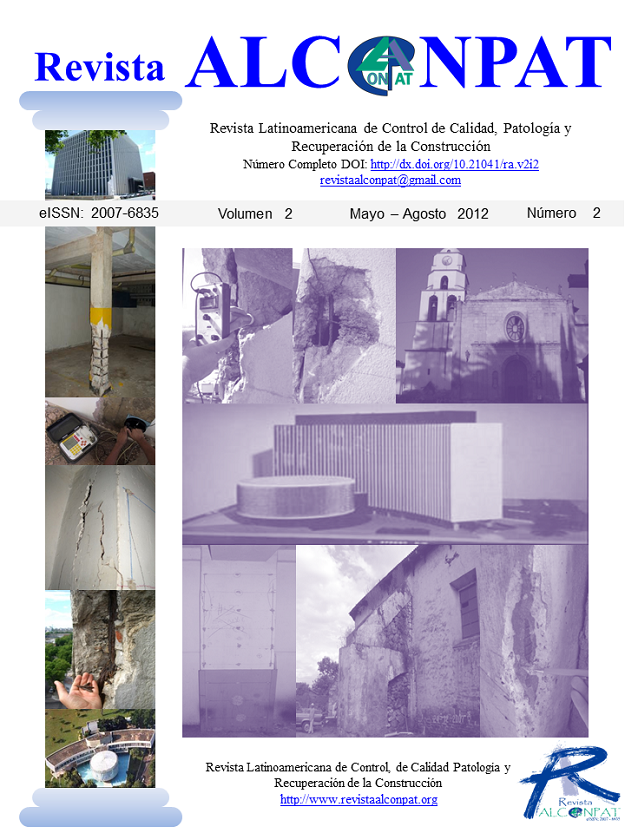 How to Cite
Troconis de Rincón, O., Sánchez, M., Millano, V., Bravo, J., & Delgado, S. (2012). Enseñanzas de casos de inspección en sótanos. Revista ALCONPAT, 2(2), 104 - 113. https://doi.org/10.21041/ra.v2i2.31
_______________________________
License in effect from September 2020
Attribution 4.0 International (CC BY 4.0)
This is a human-readable summary of (and not a substitute for) the license. Disclaimer.
Articles published in Revista Alconpat will be Open-Access articles distributed under the terms and conditions of the Creative Commons Attribution License (CC BY). The copyright is retained by the author(s). Revista Alconpat will insert the following note at the end of the published text:
"Copyright 2021 by the authors. This work is an Open-Access article published under the terms and conditions of an International Creative Commons Attribution 4.0 International License (CC BY 4.0)".
You are free to:
Share — copy and redistribute the material in any medium or format
Adapt — remix, transform, and build upon the material for any purpose, even commercially.
The licensor cannot revoke these freedoms as long as you follow the license terms.
____________________
Under the following terms:
Attribution — You must give appropriate credit, provide a link to the license, and indicate if changes were made. You may do so in any reasonable manner, but not in any way that suggests the licensor endorses you or your use.
No additional restrictions — You may not apply legal terms or technological measures that legally restrict others from doing anything the license permits.
____________________
Notices:
You do not have to comply with the license for elements of the material in the public domain or where your use is permitted by an applicable exception or limitation.
No warranties are given. The license may not give you all of the permissions necessary for your intended use. For example, other rights such as publicity, privacy, or moral rights may limit how you use the material.